I've been reading a bit of literature on physics. Turns out matter doesn't exist? Matter only exists when two particles 'meet'? Aka: in the physical world there is no matter, there are only events? (I'm summarizing here. Badly, probably.)
It reminded me of something I read in Ray Dalio's book a few years ago: the closer you align yourself to the rules of nature, the bigger your chances on success are. If you, for instance, find a way of scaling something that used to be unscalable, you turn something scarce into something abundant and you'll be rewarded for that effort.
Netflix, for instance, made 25 billion dollars in 2020 by streaming DVD's. (They do a lot more, but this time I'm just summarizing for brevity's sake.) Imagine how many DVDs*, storage space and rental shops they should've had if they wanted to generate this turnover with physical DVD's. Netflix abides by the laws of nature: it's an events-based-business. Away from possession, or 'matter', towards usage or 'events'.
Zero growth
I've had a lot of conversations about zero-growth economy being a necessary step to tackle the climate issues we're facing. But is that truly necessary if consumption and physical resources stop being so connected? In the chart below you can already see how the GDP (flawed metric, I know) of the United States stopped being so closely correlated to the US Energy Consumption starting around 1987.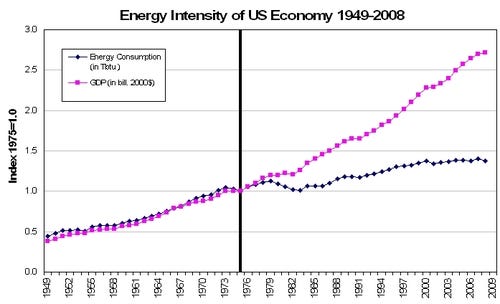 Source: https://noahpinion.substack.com/p/the-metaverse-and-near-infinite-economic
Elites and their pie
Of course I've only been addressing the link between economic growth and physical resources in the mean time ignoring the part where economic growth mainly benefits the rich. But I'm not so sure we'll tackle that issue any easier when we stop economic growth altogether.
When our economy stops growing, they turn into zero-sum games. One has to lose for the other to win. The pie stops growing. Given how hard we all want to eat pie, that seems like a pretty good recipe for disaster.
In Capital & Ideology I read how slave owners where financially compensated (!!!) after the abolition "to reimburse them for their economic loss". It just illustrates how hard it has been in the past to strip elites from their horrific privileges. Translated to this context: won't a smaller piece of pie be easier to enforce when the pie keeps growing? Aren't fair(er) taxes easier to enforce with economic growth than without?
Money for abundance
But, returning to the ecologic argument, economic growth is for the moment mainly created by exploiting scarce resources. That's why economic growth is so intertwined with the business of destroying our planet. So wouldn't it be best for us humans to start spending lots of money on things that require a lot less scarce resources to create? Or none. Or almost none.
Isn't that happening?
In 2020 we collectively spent 87 billion dollars on games in the iOS app store and Google Play store. Fortnite alone made upwards of 5 billion in revenue in 2020 by selling access to their virtual world and the gear to run around in that world. A new sword, a special dance in Fortnite, … Pixels. Abundant pixels!
I wonder how big the total 'abundant economy' is. Every digital book, song, … Everything which can be created with zero marginal cost, yet people are paying for. Am I wrong or are we saving the world a tiny little bit by buying these non-things?
*If the price for renting a DVD would be around 5 dollars, you'd need 5 billion DVD rentals to generate 25 billion in turnover. If the average DVD would be rented out 50 times in its' lifetime, averaging never-rented-creepy-porn on the one hand and Die Hard on the other hand, you'd still need 100 million physical discs a year.